Let's see....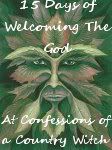 First off, Willow at
Confessions of a Country Witch
is hosting a 15 Days of Welcoming the God blog party. I'm going to be a guest blogger on the 16th. She still has a few spots open for both guest posters and sponsors if anyone's interested!!
The
Pooka Pages
has their Ostara issue available. Make sure to go check it out, they have such awesome ideas!!
I'm on day 11 of the
40 Day Global Burn Inner Anger Sadhana
. I never thought it would have such an impact on me, but for the first time...hmmmm...ever I think....I was able to go through a full day without raising my voice to my kids. I'm the short-tempered type, so this is definitely new to me!!
I attended my second circle with my Women's Spirituality Group and it was INCREDIBLE!!! It just happened to fall on International Women's Day so we celebrated being strong women with chants, tea and a little time with the Goddess Kuan Yin.